Clinical assets and the teams that support them need to be viewed as strategic assets, not just a costly break-fix function.
Unseen costs, safety risks, and security vulnerabilities in medical device inventories can threaten your health system and patient safety. Comprehensive clinical asset management begins by unlocking the full potential of best-in-class engineering medical device inventory & capital planning resources, device safety & security management, and the power of a robust clinical asset informatics platform.
You need to explore a cohesive, centralized approach to managing and optimizing your clinical assets.
WHITE PAPER
DRIVING EXECUTIVE DECISION-MAKING WITH DATA-DRIVEN CLINICAL ASSET MANAGEMENT
Despite greater focus than ever on efficient care, health system executives must still contend with unprecedented systemic challenges that threaten their operations. With many organizations consolidating and merging to drive economic efficiency, care facilities, equipment resources, and associates are now spread across larger geographic areas. Our recent white paper with Becker's Healthcare discusses the steps you can take to inform stronger executive decision-making and how implementing a data-driven clinical asset management strategy can contribute to the long-term health of your organization.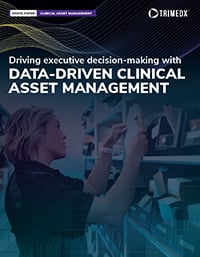 Treat medical devices and the technicians that service them as valuable clinical assets
Improve device availability and patient safety

Increase clinician and technician satisfaction

Reduce cyber risks and improve compliance

Drive cost savings with data-driven financial decisions
READY TO UNLOCK THE FULL POTENTIAL OF YOUR CLINICAL ASSETS?
See the TRIMEDX solutions in action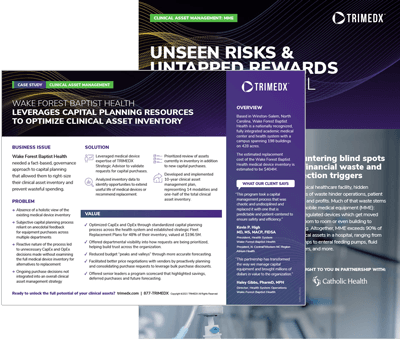 TOTAL CLINICAL ASSET MANAGEMENT
Built by providers for providers with data, technology, and on-site services ready to unlock the full potential of your clinical assets.
"TRIMEDX feels like a trusted advisor, not a service provider."
— Critical Care and Short-Term Acute Care Hospital System