THE TRIMEDX ADVANTAGE: ASSOCIATE VALUE PROPOSITION CREATING A CULTURE WE ALL VALUE
At TRIMEDX, our associates are integral to our success. They spark innovation, drive productivity, and bring excellence to every client experience. They are at the core of everything we do. As a result, we have intentionally created an environment that allows all that to happen—one where all our programs, benefits, and rewards come together to offer the TRIMEDX Advantage. The TRIMEDX Advantage consists of five elements: rewards, opportunities, people, organization, and work.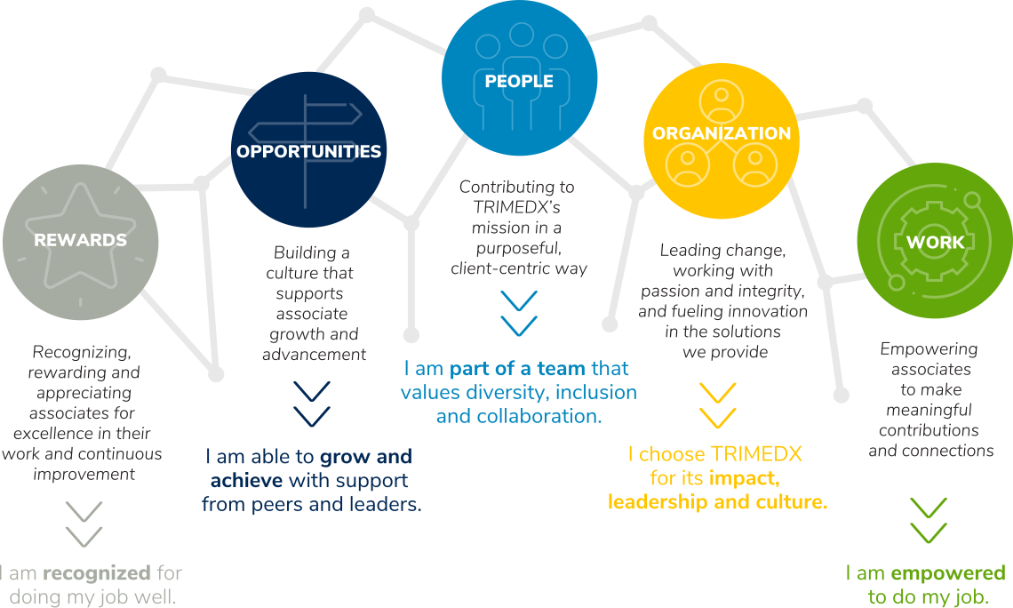 Rewards
We value the skills, ideas, and passion each associate offers. We are best when we work together and collaborate to accomplish goals and encourage one another's strengths.
Opportunities
We offer training, mentoring, and development opportunities to grow to encourage and engage our associates both personally and professionally and help associates make connections across the organization.
People
Our associates are like family. We support each other so we can bring our best to the organization and our clients. Together, we're making a difference for providers nationwide and in our local communities.
Organization
TRIMEDX needs a variety of skill sets and experience levels to be able to achieve our mission and serve our provider clients. That means every associate is important and contributes in our success.
Work
The work we do is meaningful every day. To ensure our associates are equipped to serve clients, we provide the tools needed to make decisions, take risks, and lead projects/teams.
INNOVATE WITH US. MAKE A DIFFERENCE.