Capital Planning & Advising
Capital Planning & Advising
Optimize Healthcare Capital planning with Expertise and Governance
People and processes are the driving force that deliver the benefits of clinical asset management technology and analytics. The need for clinician and administrative alignment is more important than ever in a rapidly changing healthcare landscape that includes increased margin pressures, the transition of care sites, and increasing cyberattacks.
Leveraging Data in Capital Planning
Each of the pressure points listed above impacts how health systems need to manage medical device inventories and the strategic questions they need to answer:
How can we be more strategic in what medical devices to buy and when to make the most of our capital budget?  

Do we have the right medical devices in the right location to meet patient demand? 

How can we support the demand for growing care sites and patient populations without increased capital budgets?

Do we understand our cybersecurity risk profiles and include it as criteria in our healthcare capital planning process?

Do we know which medical devices should or should not be replaced?

Do we know which medical devices need an upgrade and include this cost in our budget?
WHITE PAPER
LEVERAGING A CLINICAL ASSET MANAGEMENT SOLUTION TO OPTIMIZE CAPITAL PLANNING
A nationally recognized academic medical center was looking to improve its capital planning process to optimize its clinical asset inventory and drive savings. They turned to their clinical engineering provider, TRIMEDX, for help to implement a comprehensive clinical asset management solution. As a result, the health system was able to save millions of dollars, implement a sustainable capital planning process, and improve communication between administration and clinicians.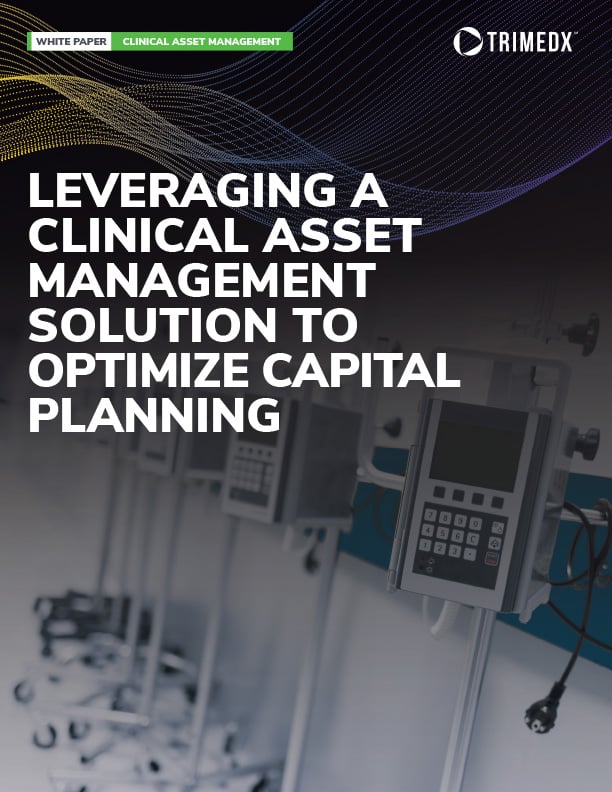 Even armed with the most advanced data and analytics technology, healthcare leaders must have the right decision-making processes in place to leverage their full power. Establishing governance that relies on objective data and recommendations as part of the clinical asset management process results in sustainable long-term optimization and financial success.
Additionally, by implementing an organizational structure that fosters systemwide adoption of available clinical asset management technology and resources, you can maximize savings and efficiency through your entire organization's inventory. TRIMEDX assists health system leadership teams to put the processes in place to meet your goals.
Implementing clinical asset management governance processes
Executive oversight committees to provide strategic direction, set organizational goals, and drive accountability.

Systemwide steering committees to lead cross-system functional initiatives related to clinical engineering, technology implementation, capital planning, and process improvement.

Regional governance councils to drive program operations, regional planning, and key performance metric tracking.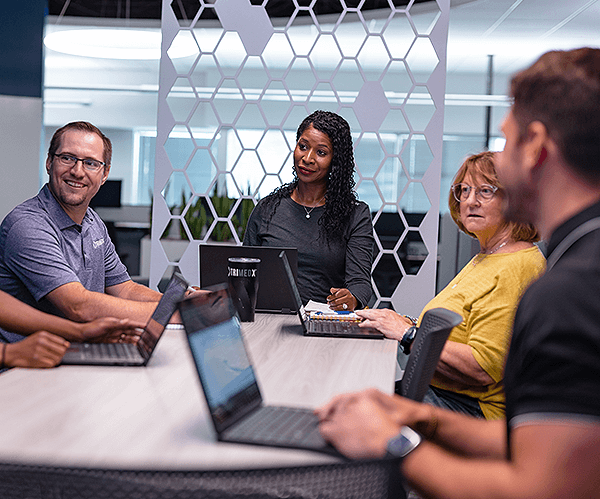 ACHIEVING GOALS THROUGH SUCCESSFUL CAPITAL PLANNING
Governance & accountability:
Program leaders set goals, priorities, and decision-making authority
Enhanced visibility:
See and understand trends in clinical asset inventory size and cost
Opportunity identification:
Assess inventory needs through utilization and benchmarking
Prescriptive recommendations:
Objective recommendations to replace, upgrade, dispose, and reallocate assets
Execute & follow through:
Focused execution to prioritize initiatives and track results
Strategic Advisors on Your Side
TRIMEDX's expert strategic advisors work alongside health system leadership and governance councils to help them enhance data analysis, optimize processes, and implement strategic clinical asset management decisions.
By integrating the objective device data, our strategic advisors can help develop a standardized process that is repeatable and sustainable for long-term optimization and success.
Forward Focused Strategic Planning
TRIMEDX strategic advisors regularly meet with governance and capital planning committees to deliver:
Comprehensive asset planning process that leverages benchmarking and the TRIMEDX RUDR Score® to validate equipment purchase requests to avoid over purchasing devices or replacing devices that aren't being utilized.

A multi-year CapEx plan that prioritizes device replacements to support organization capital budgeting forecasts.

Inventory optimization and savings opportunities through reallocation or disposition.

Standardized scorecards that track financial savings against organizational goals in the form of OpEx savings, CapEx avoidance and deferral, and cash returns.
Combining TRIMEDX Data, Technology, and On-Site Services Drives Powerful Results
CapEx avoidance and deferral
cumulative OpEx savings
cumulative medical equipment sales through auction
Gaining Clarity Through Capital Planning
Optimize inventory:
Which assets should you prioritize for replacement, upgrade, disposition, and reallocation
Benchmark performance:
Which sites have too much equipment that could be better utilized in other sites of care
Enhance healthcare capital planning process:
How to leverage data and technology to support strategic capital planning decisions
Avoid wasting capital budgets:
Avoid unnecessary purchases of new clinical assets
Improve device availability:
Ensure devices are available for patient care with clinical asset reallocation based on patient volume trends
Manage cybersecurity risks:
Understand your health systems risk posture and execute a remediation strategy that protects patients and data
Case Study
Wake Forest Baptist Health Leverages Capital Planning Resources to Optimize Clinical Asset Inventory
Wake Forest Baptist Health, a nationally recognized and fully integrated academic medical center and health system, needed a fact-based, governance approach to capital planning that allowed them to right-size their clinical asset inventory and prevent wasteful spending. The TRIMEDX team was able to help them analyze their inventory, prioritize asset replacements, and develop a 10-year clinical asset management plan.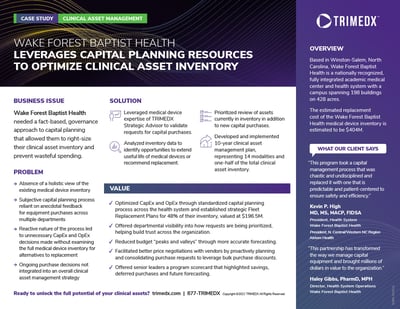 Explore how TRIMEDX's Clinical Asset Management solution can help drive financial savings while maximizing device availability