Client Experience
Client Experience
Optimize Your Medical Devices with a Partner that Has Your Back at Every Stage
TRIMEDX Clinical Engineering Services depend on accessible information and streamlined communication. This extends to every stage of our partnership with health systems, from implementation to scaling programs.
Implementation Services
Dedicated implementation teams facilitate smooth implementations of programs, including the collection of existing service contracts, integration of clinical assets into the TRIMEDX database, and execution of program go-live.
inventory validation at program implementation¹
TRIMEDX's Implementation Process
Human resources
Employees will go through the hiring process to become TRIMEDX associates, including benefits, training, and career growth opportunities.
IT/Telecommunications
TRIMEDX will work with hospital IT to ensure the proper infrastructure is in place for TRIMEDX systems and route the current phone number for Biomed to the TRIMEDX Client Experience Center (call center).
Regulatory/EOC
TRIMEDX Quality & Regulatory Compliance will partner with hospital contacts to review and revise all medical equipment related policies and procedures, including the adoption of TRIMEDX MEMP. Equipment will be transitioned to TRIMEDX preventative maintenance schedules over the course of the following year to align with TRIMEDX service standards.
Service contracts
All medical device service contracts will be converted to TRIMEDX for management, payment, service strategy, and renewal.
Inventory and database
A team of TRIMEDX associates will physically validate all equipment on-site and integrate it into the TRIMEDX database and systems.
Work order flow and processes
TRIMEDX will create a custom work order flow, where calls that come from the TRIMEDX Client Experience Center are automatically routed and escalated based on technician availability and on-call procedures.
Training
Technicians, managers, and hospital clinicians will all receive in-person training on TRIMEDX systems and work order processes.
Supply chain and capital purchases
The biomed shop will be outfitted with proper test equipment, tools, hardware, and workspace for a successful work environment. Local vendors will be added to the TRIMEDX systems to continue utilizing their services when needed.
TRIMEDX's Client Experience Center
Our centralized communication hub provides superior, live, personalized support to easily capture, track, and resolve all clinical engineering requests at client facilities.
Via phone and online self-service portal
Average call wait time with Client Experience Center¹
TRIMEDXperience
TRIMEDX is committed to actively listening and responding to the needs of clients, identifying areas for improvement and opportunities for growth to meet the needs of the industry. This commitment is reflected in several key initiatives, called the TRIMEDXperience, that monitor ongoing service quality and support a better understanding of the client experience.
Operations transactional surveys
Operational transactional surveys related to clinical engineering repairs are deployed to measure key areas such as overall service experience, ease of repair process, experience with the technician, time to complete the repair
,
and perceived disruption to patient care.
Annual Voice of the Customer survey
This annual relationship survey measures client perceptions and experience with TRIMEDX programs. Feedback is gathered on the overall relationship with TRIMEDX, familiarity with existing programs, experience across operational areas such as implementation and leadership/partnership, as well as a targeted Net Promoter Score. TRIMEDX uses feedback from this survey to create action plans and strategic initiatives that improve the client experience.
White Paper
Developing a Best-In-Class Clinical Engineering Department
Declining reimbursement and lower patient volumes are continuing to put pressure on hospitals to reduce spending and save money. Due in large part to the high visibility of costs related to equipment maintenance and repairs and capital acquisition, one of the first places many hospitals start looking for ways to save is in the clinical engineering department.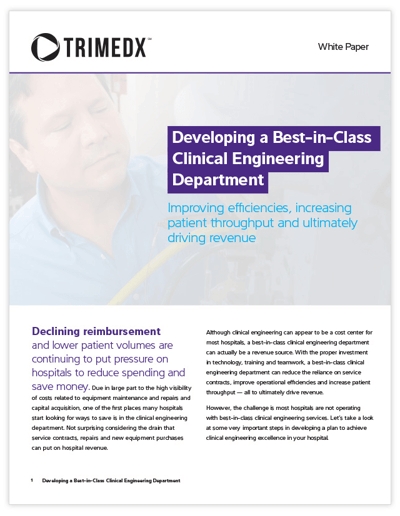 TRIMEDX's Centralized Support Teams
See how TRIMEDX's centralized support teams combine to create more opportunities for efficiency and savings.
Explore TRIMEDX's clinical engineering service solutions
FOOTNOTES
¹ Based on internal TRIMEDX data
**ALL TRIMEDX proprietary software and above-listed offerings are sold as part of the comprehensive Clinical Engineering Services Solution.