Clinical assets and the teams that support them need to be viewed as strategic assets, not just a costly break-fix function.
Unseen costs, safety risks, and security vulnerabilities in medical device inventories can threaten your health system and patient safety. Comprehensive clinical asset management begins by unlocking the full potential of best-in-class engineering medical device inventory & capital planning resources, device safety & security management, and the power of a robust clinical asset informatics platform.
You need to explore a cohesive, centralized approach to managing and optimizing your clinical assets.
RESOURCE GUIDE
Unlock your clinical assets, explore our solution suite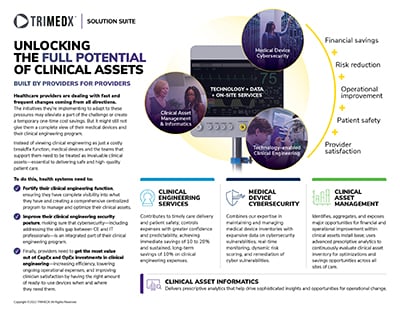 Treat medical devices and the technicians that service them as valuable clinical assets
Improve device availability and patient safety

Increase clinician and technician satisfaction

Reduce cyber risks and improve compliance

Drive cost savings with data-driven financial decisions
READY TO UNLOCK THE FULL POTENTIAL OF YOUR CLINICAL ASSETS?
TOTAL CLINICAL ASSET MANAGEMENT
Built by providers for providers with data, technology, and on-site services ready to unlock the full potential of your clinical assets.
See the TRIMEDX solutions in action
Health systems use TRIMEDX's solutions to increase savings, improve security, and keep patients safe. Check out our case study library to see the real impact of clinical engineering expertise, comprehensive clinical asset management, and true closed loop cybersecurity remediation.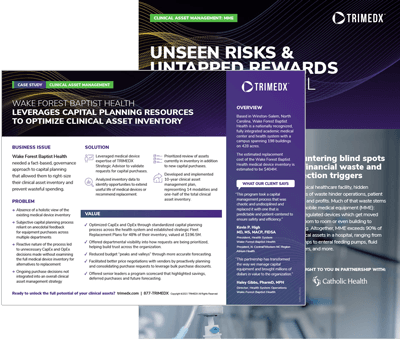 "TRIMEDX feels like a trusted advisor, not a service provider."
— Critical Care and Short-Term Acute Care Hospital System