Make Smarter Decisions with Capital Resources
Like many health systems, you may be dealing with decreasing reimbursement, shrinking operating margins, looming staffing challenges, and cybersecurity vulnerabilities. At the same time, care sites are shifting away from acute settings and presenting new challenges in managing medical device inventories.
Amidst these pressures, your medical devices and support expenses could be seen as a necessary but substantial cost. By transforming medical devices and the teams that support them into strategic assets, you can drive greater financial savings while maximizing device availability to better support patient care and your providers.
Health care systems currently deferring capital expenditures to offset long-term financial impact of the pandemic1
Clinical assets account for 25 percent of health system capital expenses on average³ and 1 to 1.75 percent of all operating expenses. This substantial investment demands finding new ways to deliver value beyond day-to-day operations. With visibility to comprehensive data and analytics, health systems can leverage their inventories as strategic resources to meet operational and financial goals.
Reducing Costs Through Clinical Asset Management
CapEx avoidance and deferral opportunity with our Clinical Asset Management (CAM) Advanced program by optimizing inventory and objective capital planning²
OpEx savings opportunity with our CAM Advanced program²
Return on assets sold above OEM trade-in value2

Clinical Asset Management (CAM) Advanced Solution
With the TRIMEDX Clinical Asset Management (CAM) Advanced solution, it is easier to identify, aggregate, and expose major opportunities for financial and operational improvement within your clinical asset install base. CAM Advanced uses advanced prescriptive analytics to continuously evaluate your clinical asset inventory for optimizations and savings opportunities across all of your sites of care. Through TRIMEDX's Clinical Asset Informatics, these opportunities are automatically aggregated and exposed for increased visibility.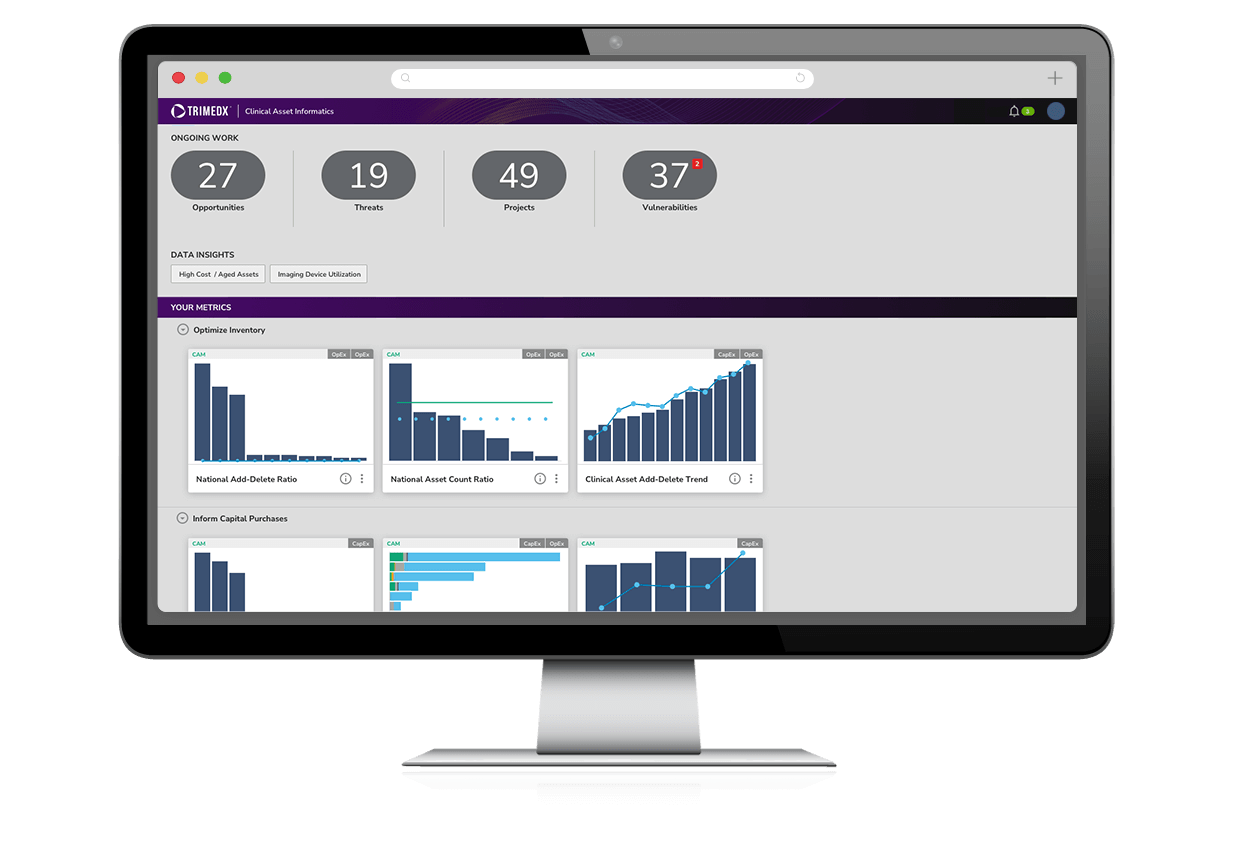 Your clinicians are requesting new or additional equipment. Yet equipment and labor costs are rising across different sites of care—squeezing your budget. What if you could make smarter CapEx and OpEx equipment decisions while improving clinician satisfaction? With TRIMEDX, you'll maximize your capital investments and minimize operating costs to unlock the full potential of your clinical assets. A comprehensive clinical asset management solution can help answer these challenging questions:
How many clinical assets do I actually own?

Am I fully utilizing my clinical assets?

How much am I spending on rental equipment?

How many medical devices do I actually need?

Are my devices in the right locations to meet demand?
Where are my clinical assets located?

Do I have enough medical equipment to meet patient demands?

When should I replace my clinical assets?
Explore How TRIMEDX's Clinical asset management solution can help drive financial savings while maximizing device availability
White Paper
Leveraging a clinical asset management solution to optimize capital planning
A nationally recognized academic medical center was looking to improve its capital planning process to optimize its clinical asset inventory and drive savings. They turned to their clinical engineering provider, TRIMEDX, for help to implement a comprehensive clinical asset management solution. As a result, the health system was able to save millions of dollars, implement a sustainable capital planning process, and improve communication between administration and clinicians.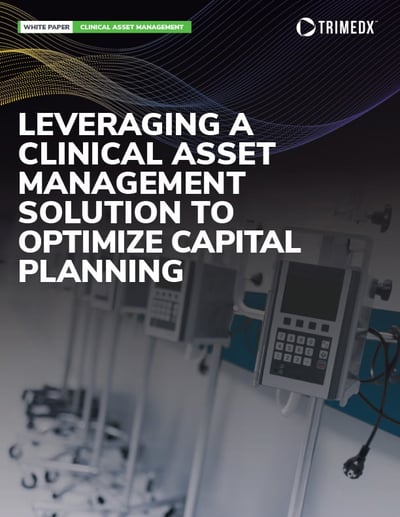 FOOTNOTES
¹ McKinsey & Company, The Financial Impact of COVID-19 on Health Systems and How CFOs Are Responding, June 2020
² TRIMEDX data based on typical client results
³ Capital Planning 2020. The Advisory Board Company. November 2014