Clinical Engineering Technology
Clinical Engineering Technology
Empower biomed engineering with a true technology partner
Medical device inventories are growing rapidly, and patient care is shifting to more diverse care settings over wider geographic areas. Healthcare technology management teams depend on highly visible, objective data to service critical devices and keep clinical operations running smoothly.
99% Uptime for Equipment Managed by TRIMEDX Clinical Engineering Technicians1
Through remote monitoring capabilities coupled with machine learning, TRIMEDX monitors medical devices to predict repairs and maintenance, automates work orders, and follows client repairs or scheduled maintenance.
STREAMLINE MEDICAL DEVICE MAINTENANCE WITH RSQ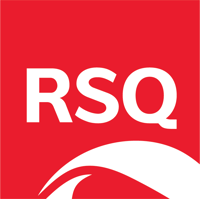 The computerized maintenance management system (CMMS) is a foundational element of day-to-day clinical engineering. But these systems need to go beyond intaking and storing maintenance requests to truly empower technicians to maintain and optimize medical devices. Clinical engineers, supply chain executives, and safety and quality experts built RSQ, the TRIMEDX proprietary workflow and analytics platform, as the foundation of our clinical engineering services. With RSQ, you can drive informed, responsive Smart Work Orders that address your operational and strategic priorities.
Equip Biomed Technicians with Vital Information
RSQ Smart Work Orders Make Device Maintenance Easier with Automated Resources
Automatic WOTs generated for recalls and critical cybersecurity vulnerabilities

Device matching to work orders occurs automatically to cut down on time-consuming manual activities

Relevant device manuals and technical specifications are automatically included to equip technicians with necessary information faster

Device metrics including maintenance, repair, and parts history are automatically incorporated to provide a more informative picture of a device's status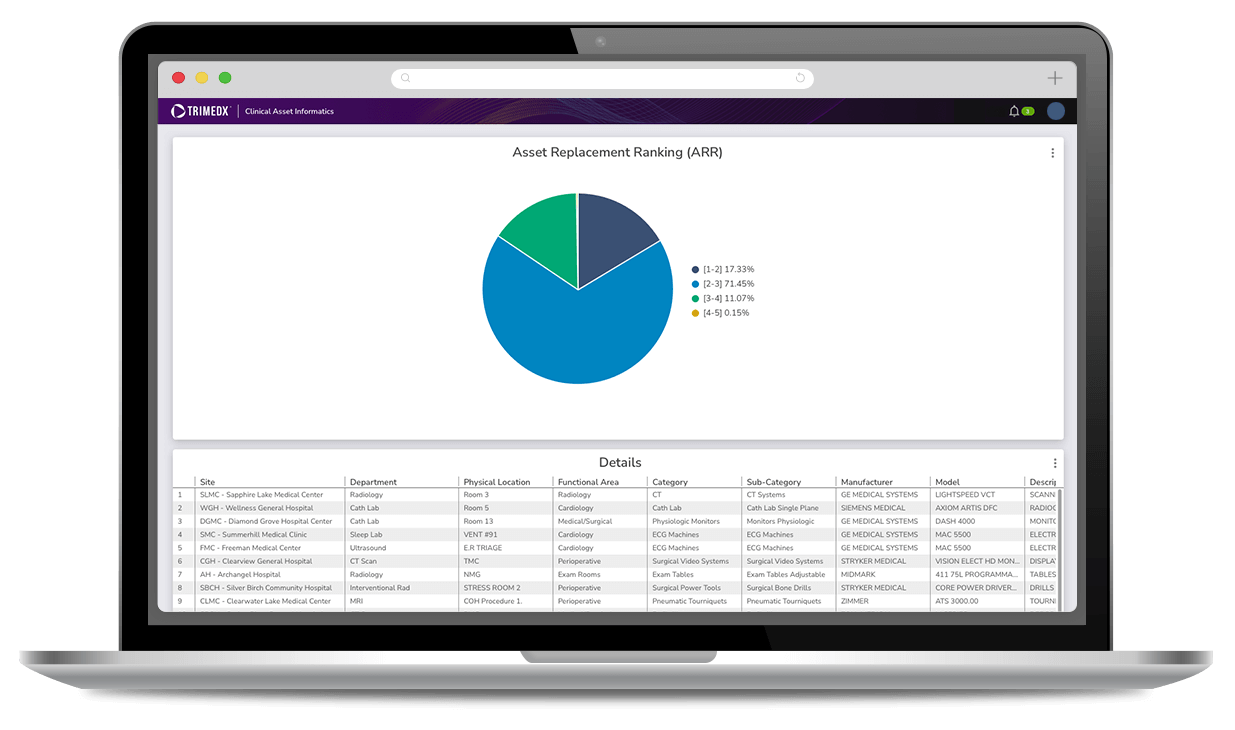 RSQ integrates all regulatory and supply chain functions to match specific medical devices in your inventory quickly and effectively to recalls and FDA alerts. Automatically generated work orders dispatch technicians to streamline response times and reduce the manual effort required to identify and remediate relevant alerts and recalls. Take advantage of device monitoring preventative maintenance schedules, and even automated work orders that identify potential device failures.
Gain Unparalleled Visibility
of your Device Inventory
TRIMEDX's Clinical Asset Informatics leverages real-time performance metrics from medical device inventories to create benchmarks and insights for optimizing uptime and controlling costs. You can take advantage of these insights and recommendations for quantities of medical devices, expected useful life, and impact on patient care due to unplanned downtime. Informatics users can stay better informed on crucial data trends with Informatics Subscriptions, delivered to email inboxes on a daily, weekly, or monthly basis for key metrics to help make effective, strategic decisions.
Actionable Insights
The Asset Replacement Ranking (ARR) provides valuable insights for capital planning. Know when devices will likely require replacement over a five-year forecast, leading to a more confident budget process. With the Clinical Asset Management Advanced (CAM Advanced) solution, take advantage of additional prescriptive recommendations for optimizing the deployment and utilization of current device inventories.
Interactivity and Visibility
Real-time information is available through Clinical Asset Informatics on the status of repairs and overall performance of clinical engineering. A complete inventory listing is available for total visibility of the health system's medical device resources. Stakeholders can easily view turnaround times for repairs and maintenance, work order status, equipment availability, supplier performance, and other trends. Access to this data helps drive clinician satisfaction and minimize disruption to patient care.
Mobile Applications to Fit Your Healthcare Technology Management Workload
RSQ Mobile
Biomed technicians service a wide variety and quantity of devices, departments, and facilities. They need access to information and tools wherever they are. With the RSQ mobile application, technicians can access RSQ Smart Work Orders and the vital information they contain to service equipment confidently and efficiently from any location.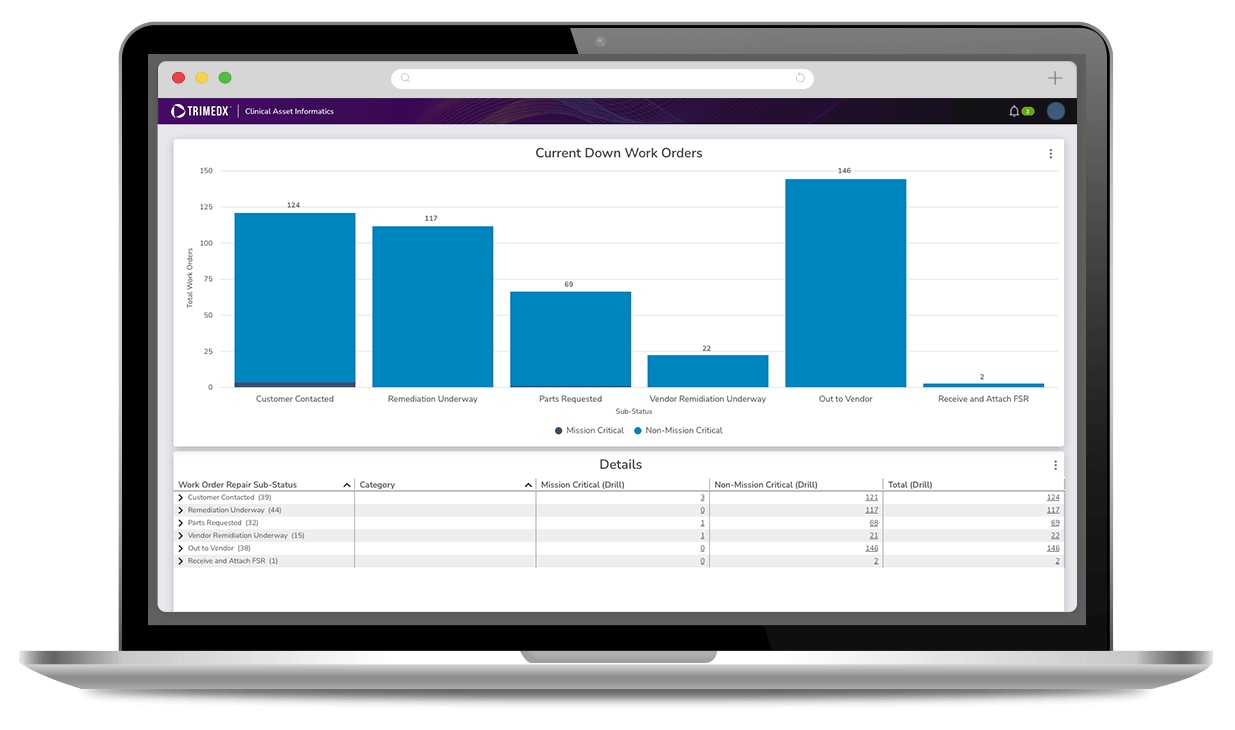 Annual Inventory Revalidation (AIR) App
Keeping an accurate medical device inventory is not a once-and-done activity. Efficient clinical operations and a health system's financial success depend on a current, accurate account of available resources to maximize the value of investments and avoid unnecessary spending. The TRIMEDX AIR App streamlines this process by integrating inventory validation with maintenance, repairs, and other work orders through a simple scan touch.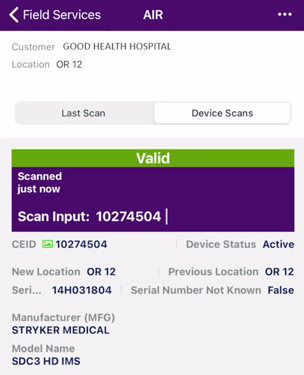 4 minutes per touch saved by utilizing the AIR App¹
touches per year utilizing the AIR App¹
hours of technician time saved by utilizing the AIR App¹
Clinical Engineering
Reduce operational expenses while empowering your technicians
Clinical Asset Management
Make objective, data-driven capital planning decisions
Cybersecurity
Improve your medical device security posture
Explore TRIMEDX's clinical engineering service solutions
FOOTNOTES
¹ TRIMEDX national benchmark data