Fortify Your Clinical Engineering Teams
Clinical engineering teams are vital to maintaining health systems' growing inventories of increasingly complex medical devices. These services contribute to timely care delivery and patient safety when managed efficiently. However, the costs to support clinical engineering can scale quickly for health systems navigating the challenges of modern healthcare, such as rapidly advancing medical device technology, shifting sites of care, and the impact of regulations on care delivery and data security.
Biomed technicians also require the training and tools to contend with evolving technology and industry shifts. Health systems can empower clinical engineering teams to operate efficiently and strategically by enlisting an expert partner like TRIMEDX.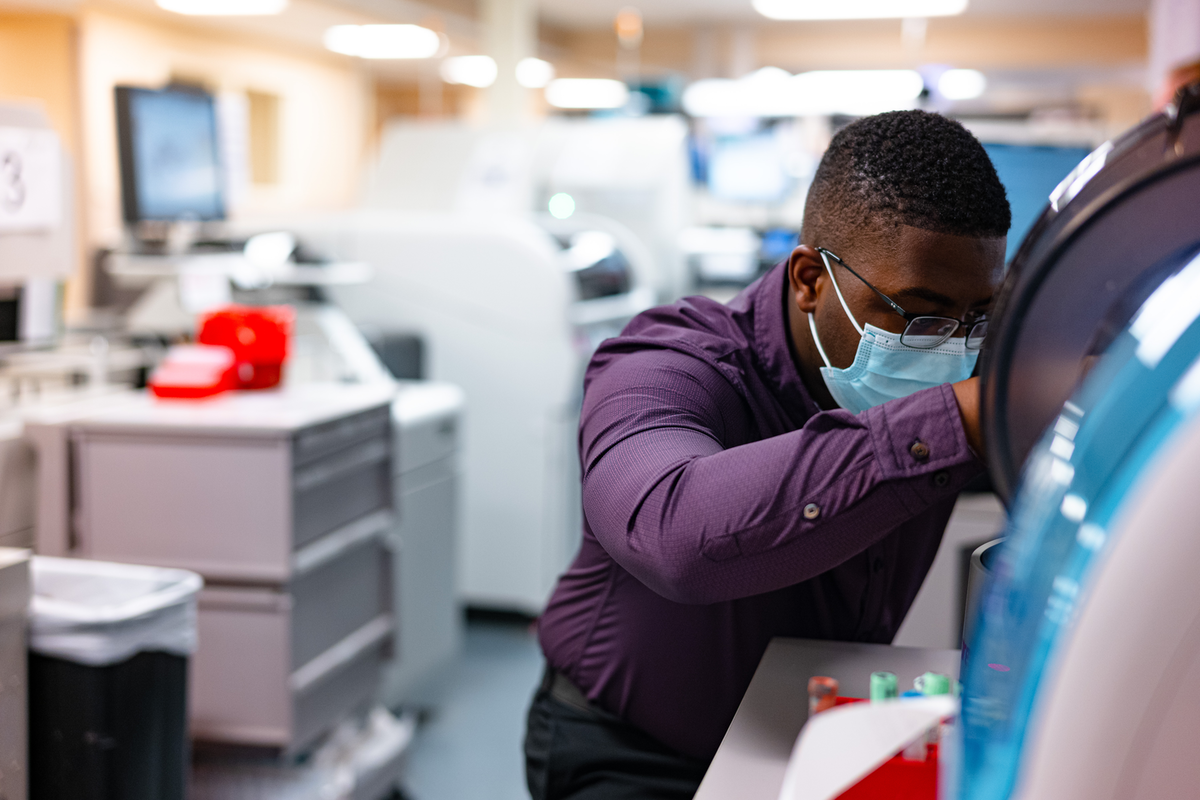 5,000 Biomedical equipment technicians (BMETs) are needed in the next three years, but BMET programs are graduating fewer than 400 each year¹.
Health systems partner with TRIMEDX to control their expenses with greater confidence and predictability. These health systems achieve immediate savings of 10 to 20% and sustained, long-term savings of 10% on clinical engineering expenses.
Savings off baseline clinical engineering operational expense2
Inventory validation at program implementation2
TRIMEDX equipment uptime2
Explore TRIMEDX's clinical engineering service solutions
TRIMEDX solutions are built on a proven foundation of clinical engineering services. For decades, health systems have worked with TRIMEDX on-site technicians to ensure the reliability and safety of millions of medical devices at over 4,500 sites nationwide.
Benefits of Clinical Engineering Services
Reduce operating expenses through program and workflow standardizations

Improve medical device availability

Proactively manage regulatory compliance
Medical devices actively managed as part of our CE program
Repairs completed monthly
Preventative maintenance activities completed monthly
RESOURCE GUIDE
CLINICAL ENGINEERING: COMPREHENSIVE, TECHNOLOGY ENABLED SERVICES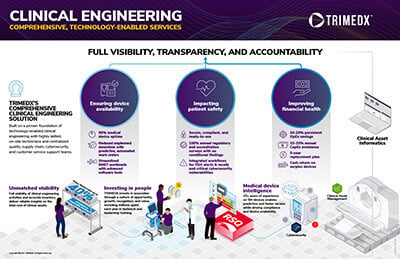 White Paper
The Impact of Medical Device Availability on Patient Safety
Maintaining the resources and capacity to deliver patient care consistently and reliably is a primary concern for all health systems. Medical devices are critical to this goal in virtually all care pathways. Health systems must look beyond the "break/fix" mentality of traditional clinical engineering services and adopt a more proactive and responsive strategy for maintaining these devices. Ensuring device availability and strengthening the security of medical devices are all essential considerations for driving patient safety, provider satisfaction, and inclusion in capital planning initiatives.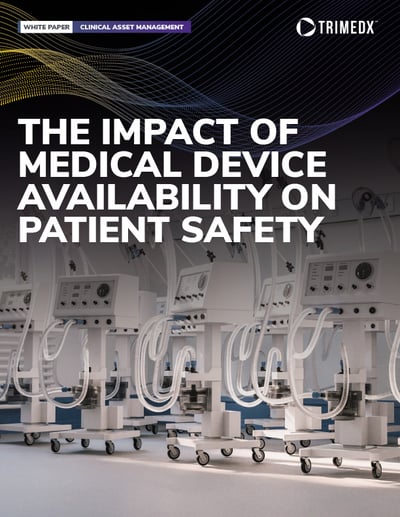 Explore the TRIMEDX Solution Suite
FOOTNOTES
¹ AAMI, https://www.aami.org/news/article/survey-open-positions-and-untapped-diversity-for-htm, June 2021
² TRIMEDX data based on typical client results
**ALL TRIMEDX proprietary software and above-listed offerings are sold as part of the comprehensive Clinical Engineering Services Solution.