Supporting Our Associates and Each Other
At TRIMEDX, we support and protect a culture where diversity, equity, and inclusion are the foundation. We know it is our uniqueness and experiences that make a difference, drive innovation, and create shared success. We create an inclusive workplace by actively seeking diversity, creating inclusion, and driving equity and engagement.
A Dedication to Diversity
We embrace people's differences which include age, race, color, ethnicity, gender, gender identity, sexual orientation, national origin, education, genetics, veteran status, disability, religion, beliefs, opinions, and life experiences.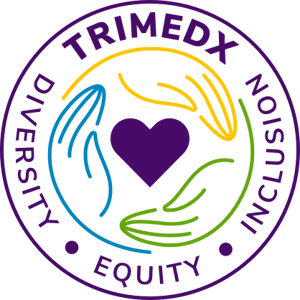 There are three behaviors that strengthen our commitment to inclusivity, equity, diversity, and belonging:
Be brave: Excellence
This is a powerful transformation that challenges people and systems. Creating accepting, safe, and receptive spaces for people to show up and be seen means both skill-building around vulnerability, courage, and empathy as well as working to dismantle the systems that devalue and dehumanize people.
Be better: Innovation
This is a powerful transformation that allows for creativity and ingenuity. Bring integrity and a personal commitment to learning and demonstrating knowledge and skills that allow everyone to fully engage and grow in a diverse environment. This means striving for excellence and continuously improving yourself, so you can improve how you work with others.
Be well: Making a difference
This is a powerful transformation that allows for impact and change. Generosity, courage, accountability, vulnerability, empathy, resilience
,
and the power of story can change the world. We must take care of ourselves, each other, our organization, our community
,
and the people we serve.
We are committed to a journey of listening and continuously improving. We provide resources and encourage our associates to be curious and courageous. We are creating a workplace where our associates can contribute to their fullest potential.
Innovate with us. Make a Difference. Achieve Excellence
Associate Resource Groups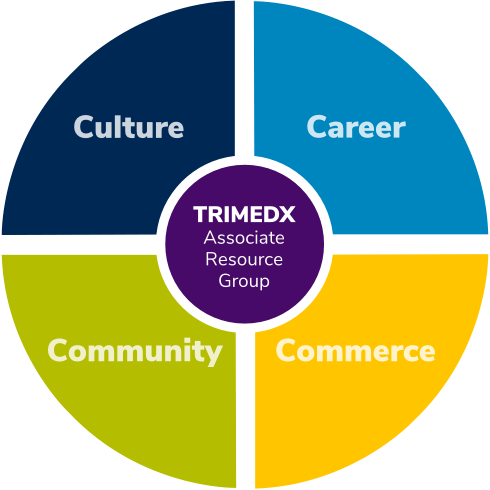 At TRIMEDX, our foundation of success starts with great people. We continue our journey to build an inclusive workplace, where associates are able to contribute to their full potential. As part of our commitment to diversity, equity, and inclusion, we have three associate resource groups:
Faith in Action Associate Resource Group
Women's Associate Resource Group
Minority Associate Resource Group
These groups are comprised of associates who voluntarily come together based on shared characteristics, life experiences, or interests. We offer opportunities for associates to participate in leadership, as members and ambassador roles. The charter and purpose for each group is based on a 4C model (culture, career, community, and commerce). All goals and activities for an ARG are aligned to one of these overarching categories to further our vision, mission, and values. These groups support our continued focus on associate engagement and retention and recruitment. We are committed to responsible ownership, and an inclusive workplace creates a place in which people want to join and where associates feel a sense of belonging and are able to contribute to their fullest potential.
Over the last few years, TRIMEDX has taken several actions (highlighted below), along this journey.
Improved insights on demographics by segment
Designed and implemented a Women's Leadership Conference
Established Associate Resource Groups with a model focused on careers, culture, community, and commerce with connected initiatives
Strengthened our associate engagement survey to include specific questions on associate well-being, diversity, and inclusion
Implemented Unconscious Bias Training for leaders
Expanded highlights and education for cultural observances and heritage months
Announced the TRIMEDX Diversity, Equity, and Inclusion Statement
Connect with Us on Social Media and Follow Our Progress on this Journey