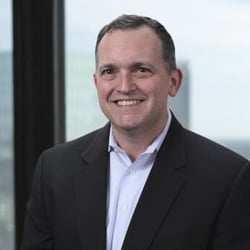 TRIMEDX announced that longtime industry expert Scott Trevino has been promoted to senior vice president of product management and solutions at TRIMEDX, effective immediately. In his new role, Trevino will partner across the organization to develop, drive and execute the product strategy for TRIMEDX's technology and analytics portfolio. He will serve as a member of the TRIMEDX executive leadership team reporting to Chief Marketing Officer LeAnne Hester.
Trevino and his team will manage the TRIMEDX portfolio to align with business strategy and outcomes, product innovation and development prioritization. This portfolio combines technology-enabled, best-in-class clinical engineering and cybersecurity with next-generation clinical asset management to transforms a health system's medical devices into a strategic lever for improving overall performance.
"We have been fortunate to have Scott as an integral member of our TRIMEDX team to drive a number of our key initiatives over the last two years," says LeAnne Hester, chief marketing officer. "His experience in product management, regulatory, risk management and leadership will continue to advance our commitment to develop solutions that enable our clients to reduce cost and their overall risk."
Trevino joined TRIMEDX in 2018 as vice president of quality assurance, regulatory and technology and has helped contribute to and drive key initiatives around cybersecurity, product development and recalls, as well as to establish the TRIMEDX brand and influence in the industry through his work establishing relationships with regulatory agencies and industry organizations such as the Association for the Advancement of Medical Instrumentation and with the Alliance for Quality Medical Device Servicing.
"I'm looking forward to becoming part of an extremely talented team with a clear vision for the future and a fantastic leader," says Trevino. "I have a deep passion for our clients and the patients they serve. Together, we have the privilege to continue helping provide meaningful solutions for the providers, the clinicians and their patients."
Prior to joining TRIMEDX, Trevino spent over 20 years at GE Healthcare holding multiple leadership positions in product management, service, technology/engineering, operations and quality. He has led successful transformative change across organizations by leveraging his unique experience, expertise and analytical approach. He is Six Sigma Lean Black Belt-certified with a history of success in executing complex global strategies and has a passion for developing, motivating and leading teams.
Trevino earned an MBA from The University of Chicago Booth School of Business, as well as a Master of Science in Computing, Bachelor of Science in Computer Science and Bachelor of Arts in Psychology from Marquette University.
About TRIMEDX
TRIMEDX is defining total clinical asset performance for the healthcare industry. As the largest independent technology-enabled clinical asset management company in the United States, TRIMEDX provides strategic planning and management of clinical assets to drive operational cost savings, free up capital for new strategic initiatives and deliver improved risk management and cyber protection. TRIMEDX was built by providers, for providers, and leverages a history of expert clinical engineering to manage over $30 billion in clinical assets across thousands of locations.