HOW WE ARE CONTINUING TO SERVE OUR CLIENTS
At TRIMEDX, the health and well-being of our associates, their families, and our clients & their patients are our top priority. As the provider of clinical engineering essential functions, we remain steadfast in delivering on our commitment to our health care providers by ensuring that medical equipment is properly maintained, cleaned and ready for use at a moment's notice. Our goal is to minimize disruptions related to medical equipment readiness so that clinicians can maximize their time at the patient bedside.
With the heightened flu season and influx of novel coronavirus, our thoughts are with everyone around the world who are impacted, and especially with health care providers who are on the front lines of patient care. As we continue to navigate this unprecedented situation, we will evaluate new information and provide the support needed as we continue to work together.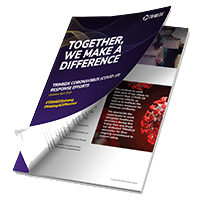 Learn how we continue to provide service to our clients and work alongside them to support their COVID-19 response efforts during these unprecedented times. Click here to download our ePublication.
The following frequently asked questions provide detail around our response related to COVID-19.
What is TRIMEDX doing to continue supporting our clients?
TRIMEDX has set up a multi-disciplinary COVID-19 Command Center that is actively monitoring TRIMEDX operations and working with our clients to ensure continued safety and support, in accordance with health authority recommendations. Part of the protocols include communication huddles per shift and twice-weekly field leadership meetings across all 3,700 sites to discuss challenges and share best practices.
In addition, we have implemented additional protocols for our onsite technical staff to support our healthcare providers and their patients' safety, including split shifts to accommodate associates' personal and family needs, to reduce risk of exposure, and to extend operational hours of support. All non-essential travel has been temporarily suspended.
We are partnering with our clients to support their respective emergency operations plan and to coordinate all efforts with hospital Infectious Disease Control contacts.
We are conducting additional cross-training of our technicians to ensure we have added bandwidth and depth to provide coverage to the devices essential for the treatment of COVID-19 patients.
How is TRIMEDX working to ensure business continuity?
TRIMEDX has been able to continue our business operations with minimal interruptions.
We are working closely with our supplier partners to ensure minimal disruptions are experienced, specifically but not limited to vendor service, parts availability and priority shipping/logistics and publishing a daily status for our field.
We continue to identify additional cross-training for technicians in the field, as well as identifying flexible/split-shift opportunities.
What additional steps are you taking to support your associates?
The TRIMEDX COVID-19 Command Center meets regularly to debrief and gather new information, as it becomes available or as information changes.
Regular, and as needed, communication is being provided to our associates regarding their health and well-being, any changes to work environments, supporting our clients, compensation and benefits, travel and flexible/split-shift work arrangements.
For associates who are ill, we have implemented specific processes to report and track a possible or confirmed work/social exposure.

If you have questions from the TRIMEDX team, please contact us at info@trimedx.com.